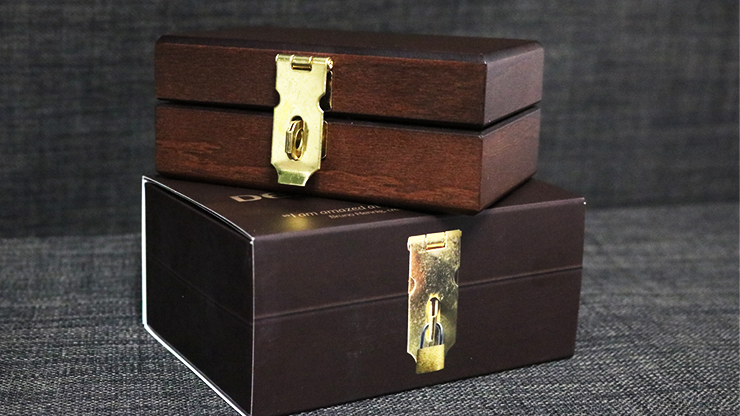 "I am amazed at your execution of the trick"Bruno Hennig
"Jon has done some wonderful work on the Card To Box plot. Superb!"Tommy Wonder
Let's be real. There are a lot of Card To Box effects on the market. Most are variations of Bruce Hennig's work. But, nothing has ever come close to Jon Allen's incredible "Destination Box".
It's how Jon closes his close up shows. And It's how our own Andi Gladwin closes his walkaround shows too, and we think you'll feel the same way after you try it. It's just impossible to do anything after this, because it is just so strong.
At the start of your act, you give someone an elegant, walnut box to hold. It is fastened closed by a metal lock and padlock. As an ending to any signed card routine, you unlock the box the spectator has been holding for the whole show to reveal another box inside. And inside that is, of course, the signed card.
Here are the important details:
The card inside the box is the signed card
There's no switch
The box is 100% examinable
You can use any card back design (because there are no duplicates)
But, there's more to this. You can use this box not only for that amazing ending to your show, but it is not limited to playing cards. You could use a bill if you'd prefer. You can use it for a Confabulation routine. It can even be used as a Headline Prediction.
This is stunningly well made, and looks and feels beautiful.
Jon Allen has been using this for 20 years, and we're delighted to let you know it will finally be available again from next Monday (June 19th).
We don't often promote pre-order items, but in this case, we do urge you to pre-order because it almost certainly will sell out, and at the time of writing, we're unsure how many units will be made available to us.
Created from solid American black walnut
Solid brass hinges, hasp & staple with secure padlock
Unique design by Jon Allen
External dimension: 4.5" x 3" x 2" (120mm x 75mm x 55mm)
Internal flocking for added elegance
Extra specialised coating for added protection
Devious method makes the box 100% examinable
Pillbox included
This Download Link is restricted for your  VIP membership level.