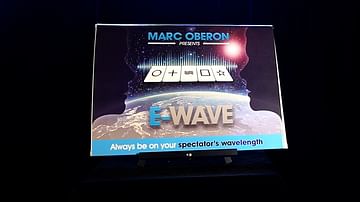 Marc Oberon's "E-Wave" begins with a squeaky clean "which hand"-style effect before building progressively toward a powerful conclusion that will leave your audiences stunned.
Using an ingenious combination of methods, "E-Wave" allows your spectator to correctly guess the position of any ESP symbol with 100% accuracy. Any position, any symbol.
NO procedure
NO mental gymnastics
NO memorization
This is as direct and powerful as mentalism can be. It's perfectly suited for both parlor and stage magic shows, as well as virtual magic shows.
Each "E-Wave" set comes with precision-made props constructed of high-quality materials designed to last countless performances.