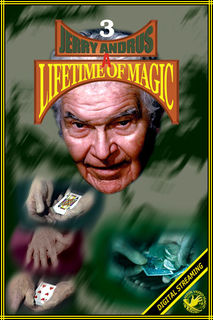 Jerry Andrus is one of the most original thinkers in magic and beyond. His magic and optical illusions have been featured on television shows and in magazine articles all over the world. These programs offer you an opportunity of a lifetime where you can see him perform and explain many of his greatest inventions. You will see and learn astounding magic with cards, coins, balls, handkerchiefs and much more.
Volume three features two of the most popular Jerry Andrus creations, the "Startling Color Change" which Charlie Miller called "The most beautiful move in card magic" and the "Miser's Miracle" which is a reputation maker. You will also see the original "Linking Pins" routine performed by the inventor.
Effects performed and explained:
The Two Card Trick: A spectator points to two playing cards. The cards are removed from the deck and a large coin magically appears between them. The cards are now used to produce a total of twelve coins which are dumped into the spectator's hand.
Ace, Two, Three, Four Trick: An ace, two and a three are removed from the deck as you mention that you are doing the Ace, Two, Three, Four Trick. Before the spectator can ask where is the four, you shake the three cards and four large coins appear on their backs.
Miser's Miracle: Andrus' classic routine where coins magically appear as two cards are rubbed together. As a finale one of the cards is torn in half and a coin is produced from between the two halves. The half card is torn again and a large coin appears from between two of the quarter cards. The hands are shown empty throughout the routine.