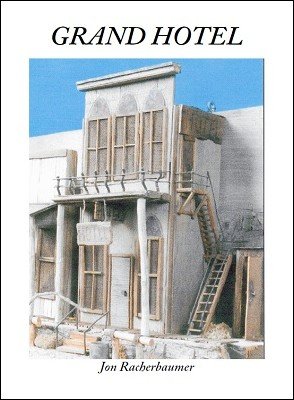 An exploration of the Hotel Trick, aka "A Night on the Town". A trick with a good plot is half the battle. This one has an interesting plot that can be styled and modified to fit your needs. Sleight-less and sleight-of-hand versions are being taught.
Jon was introduced to this trick by Persi Diaconis in the 1970s. In this ebook he has traced it back to its roots, and forward to modern variations and spin-offs.
The core effect:
Two Queens and four Kings are shown. The Queens are tabled face down next to each other. Two Kings are added onto each Queen to form two three-card packets. After a magical pass, the Queens and Kings separate and coalesce into respective packets. These actions are accompanied by a simple tale about four gentlemen (Kings) who were out on the town. Two ladies (Queens) of the evening meet them and each lady retires to a hotel room with two male admirers. A hotel detective (Ace of Spades), suspecting an illegal tryst, intercedes by checking each room. To his surprise, he finds four gentlemen in one room and the two ladies in the other room.
ONCE UPON A TIME
THE BASIC ACTION PROCEDURE
TELL ME A STORY
A BIT OF HISTORY
ACES AND KINGS / Henry Christ
THE HOTEL MYSTERY / Edward Marlo
AND THEN…
THE KING CAN DO NO WRONG / Gerald L. Kaufman
THE DIAMOND ROBBERY / Peter Kane
ROSENTHAL ON THE HOTEL TRICK
A NIGHT ON THE TOWN / Edward Marlo
SPIN OFFS

FLATFOOT, FLOOZIE AND THE BOY-BOY / J. K. Hartman
ONLY THE LONELY / Lou Gallo
A NIGHT IN THE BIG EASY / Jon Racherbaumer
LET OM / Jon Racherbaumer
DOUBLE BACKING TO MOTEL SIX / Jon Racherbaumer
STEALING THE HOTEL TAO / Bob Farmer
HOT LINE / Aldo Columbini
HOTEL 81 / Jack Avis
HOTEL DALEY / Peter Duffie, Robin Robertson
K. I. S. S. ME DEADLY

SELECT BIBLIOGRAPHY
1st edition 2020, PDF 68 pages.
word count: 21105 which is equivalent to 84 standard pages of text
This Download Link is restricted for your  VIP membership level.