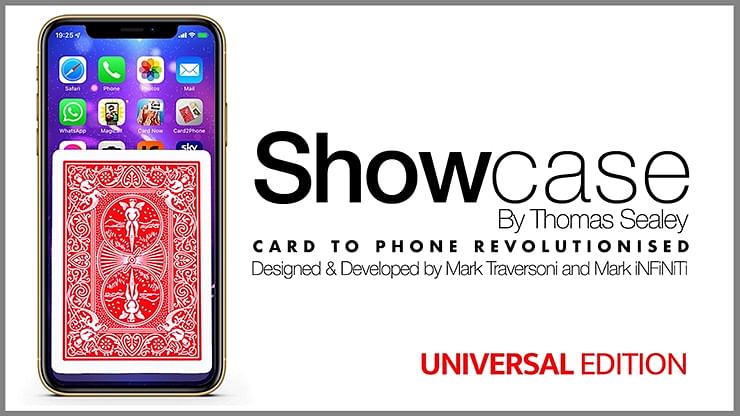 "Showcase" is the card in phone plot like you never thought possible. It blurs the line between physical, digital and magical, taking this modern classic into a new dimension. The days of tricky sleight of hand, rapidly mercury folding cards and super awkwardly using your phone as a holdout are over.
IMPORTANT: Before you read any further, please note that the trailer shows coins being produced. That is from an older version of "Showcase" and is NOT possible with the universal edition. This version only works with playing cards
When performing card to phone or coin to phone, you've never before been able to show your hand completely empty or show all sides of the phone before swiping or visually dropping their full card (yes, full card) onto their hands. You can even perform "Showcase" surrounded.
What is "Showcase"?
"Showcase" is a bespoke universal phone case developed by Thomas Sealey. It looks just like a phone wallet and can easily be stuck to the back of your existing phone case and removed when needed. This special gimmick enables you to hold one or multiple playing cards with ease. Thanks to an ingenious locking mechanism, you can even lock in signed playing cards and produce them whenever you want (100% under your control).
This means you can not only produce a playing card, but can also easily vanish a playing card. A card to phone effect where a physical playing card visually becomes digital. If you're reading this in 2022, there is probably a good NFT joke that can be written here. If you're reading this many years after 2022, do NFTs still exist?
"Showcase" is designed to work seamlessly with the Card to Phone apps you can find on the App Store or Google Play store. These magic apps are very affordable and highly-recommended. However, you'll also learn how to do a similar style effect with your phone's camera roll (no app required).
NEW Video Prediction
You can also now take your effect to new heights by integrating video. Imagine having your spectator pick a card. You then pull out your phone and show a video of your yourself form earlier in the day. In that video, they see the back of a prediction playing card, which then drops out of the screen and into your hand. Talk about 3D video!!
Each set comes with a "Showcase Universal Edition" (66mm wide x 95mm high) that can be snapped right onto your existing phone case. You'll also receive the card to phone slide (which DOES NOT work with coins as shown in the trailer).
Enjoy a new world of routines and ideas with "Showcase"!
This Download Link is restricted for your  VIP membership level.