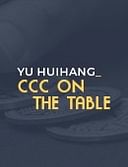 Yu Huihang, a master sleight of hand artist from Singapore, adds his signature touch to the beloved "Charming Chinese Challenge" plot. "CCC on the Table" is a beautifully thought-out effect with multiple magic moments. Everything feels more open and fair than when being performed in the hands.
The download is taught in exquisite detail. And, as this is a tabled performance, it pairs beautifully with a coin matrix as part of a larger routine.
"CCC on the Table" is an individual download that is also offered as part of a larger "Yu Huihang Download Bundle" that is available for 70% off.
Runtime: 16 minutes 55 seconds