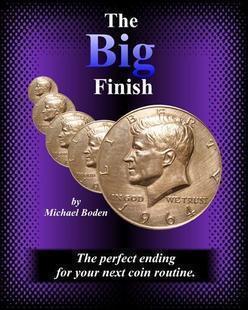 The Big finish is now ready for sharing with the magic community, asMICHAEL BODEN'sway of giving back to the art and to the influential couple that shared their magic with him on The Magic Land Of Alakazam: Mark and Nani Wilson.
A regular size coin visually grows into a jumbo size coin for the big finish of your next coin routine.
Whether your looking for a new method, easier technique or a more visual result, The Big Finish takes a new approach that simplifies and amplifies the method and effect making it the perfect ending for your next coin routine.